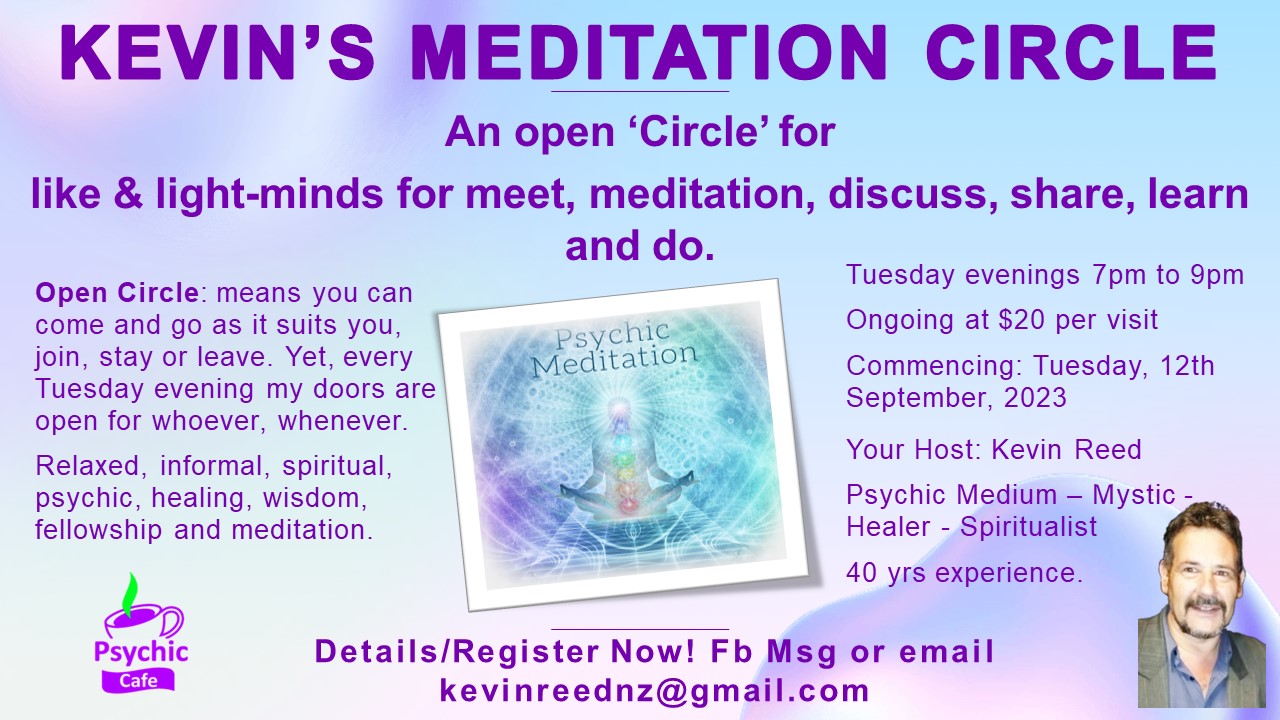 Kevin Reed's Meditation Circle
If you are interested in Spirituality, Psychic Craft, the unseen and making sense of it all, then
Join this 'Circle'!
What is a 'Circle'?
In Spiritualism, a 'circle' is a group of people who meet regularly where meditation, spiritual study or psychic craft are explored. It is a learning space, a sharing spare, a safe space to build, share, nurture and grow in a 'Spiritual' sense.
Certainly, it is a place to get a solid foundation and understanding and experience in Spiritualism and all it's many facets.
Who runs a 'Circle'?
A circle is usually run by 'Medium' or Spiritualist who has proved their character, knowledge and craft to the community.
Who, then, is Kevin Reed?
Kevin has been involved in the 'Spiritualist' world for nearly 50 years! He has worked as a platform medium in most of the Spiritualist Churches in the Bay of Plenty; appeared in many 'Meet the Mediums' shows in both the North and South Island and has been teaching 'Metaphysics' for over 30years. A lot of the Psychic, Mediums and Healers around today have been through Kevin's classes! Together with Psychic Craft and Spiritual Study, Kevin has been an Usui Shiki Ryoho Reiki Master Teacher for over 30 years with over 1,000 students being attuned to Reiki by him. He has been the Resident Radio Psychic with his 1 hour weekly show on More FM Kapiti Coast; Past President The Tauranga Spiritual Society and Founder of The Psychic Café Tauranga.
He says, "When it comes to learning Psychic, Spiritual or Healing Stuff: many people have their opinions, yet, on the other hand – I have the experience!"
When?
Every Tuesday evening, beginning at 7pm and starting on the 12th of September, 2023.
How much?
Not just how much but also, what do I get: It is $20 pay as you go and for that you get two (2) hours immersed in what you love; Spirituality and all it's facets. You get chocolate fish, teas and coffee and biscuits and friendships, you get access to opportunity.
What to do now?
Register your interest, contact me, facebook messenger or email, and I will send you the details and look forward to meeting you and sharing with you: Kevin Reed's meditation Circle! 😊