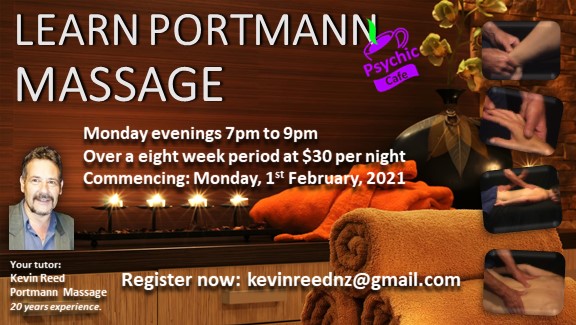 Date
01 Feb 2021
Expired!
Time
7:00 pm - 9:00 pm
MASTER THE ART OF MASSAGE OVER 8 WEEKS!
"A beautiful experience
Kevin your teaching skills are phenomenal! Thank you very very much for this
"Kevin was amazing! This workshop was highly educational and inspirational."
– Richard
"Kevin's proficient experience and skill was gracefully presented and explained thoroughly. Thank you!"
– Clare
"Lots of fun and highly recommended!"
– Donna
"Kevin is an amazing teacher, he's extremely patient and dedicated to his work. I highly recommend his massage training course."
– Christine R
Do you love massage?
Would you like to become confident massaging friends and clients?
Join us for this fun and affordable 8 week immersion!
In this course you will:
Learn the Portmann Massage technique that massages the muscles as well as soothes the skin, disperses buildup of lactic acid from the body and works at many levels from light to deep tissue.
Learn the fundamental principles for giving EXCELLENT massages
Transform your understanding of the healing and the body
Give and receive MANY massages!
This is your chance to discover the healing power within your own hands. Don't miss it!
LEARN FROM AN EXPERIENCED PROFESSIONAL:
Kevin Reed has over 30 years of experience in bodywork and healing. He was certified to teach Portmann massage in New Zealand back in 2002.
He has a deeply passionate approach to 'healing' and loves to share his sacred art with the world.
DETAILS:
Every Monday evening over 8 weeks
Commencing 1st of February, 2021
7:00pm to 9:00pm
60B Eighteenth Avenue
Tauranga
Investment:
$30 per evening, pay as you go!
There are only eight spots available, so reserve your place as soon as possible!
Contact Kevin via Facebook or email: kevinreednz@gmail.com or phone 07) 5787 205 with any questions or enquiries.