By
Madhava Setty, MD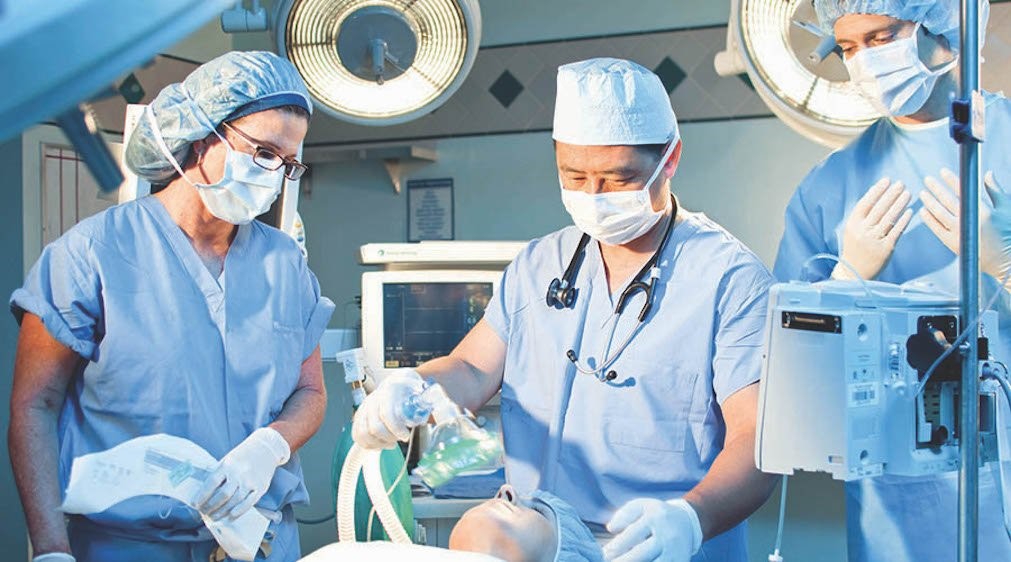 This isn't just a way of deflecting a question, it also serves as a gentle reminder to both parties regarding the importance of "coming to." If we couldn't regain consciousness, what would be the point in having the surgery in the first place? Nobody wants to experience pain and fear if it can be avoided. If the only way to avoid the pain of an operation is to temporarily be rendered unconscious, most people will readily and willingly consent to that, as long as we can return to our natural state of being alert and interactive with the world around us. We are awake and aware and that–rather than any particular conception of health–is our most precious gift.
How does Anesthesia work ?
From an Anesthesiologist's point of view, we really shouldn't charge for putting someone to sleep. It's too easy. With today's medications, putting someone to sleep, or in more correct terms, inducing general anesthesia, is straightforward. Two hundred milligrams of this and fifty milligrams of that and voilà: you have a completely unconscious patient who is incapable of even breathing independently. The medications we administer at induction are similar to the lethal injections executioners use. Unlike executioners, we then intervene to reestablish their breathing and compensate for any large changes in blood pressure and the patient thereby survives until consciousness miraculously returns sometime later.
In addition, those in my field have to contend with the reality that we really don't know what we are doing. More precisely, we have very little if any understanding of how anesthetic gases render a person unconscious. After 17 years of practicing Anesthesiology, I still find the whole process nothing short of pure magic. You see, the exact mechanism of how these agents work is, at present, unknown. Once you understand how a trick works, the magic disappears. With regard to inhaled anesthetic agents, magic abounds.
Take ether, for example. In 1846 a dentist named William T.G. Morton used ether to allow Dr. Henry J. Bigelow to partially remove a tumor from the neck of a 24-year-old patient safely with no outward signs of pain. The surgery took place at Massachusetts General Hospital in front of dozens of physicians. When the patient regained consciousness with no recollection of the event it is said that many of the surgeons in attendance, their careers spent hardening themselves to the agonizing screams of their patients while operating without modern anesthesia, wept openly after witnessing this feat. At the time, no one knew how ether worked. We still don't. Over the last 173 years, dozens of different anesthetic gases have been developed and they all have three basic things in common: they are inhaled, they are all very, very tiny molecules by biological standards, and we don't know how any of them work.
Why we still don't know…
If you have never closely considered how our bodies do what they do (move, breathe, grow, pee, reproduce, etc.), the answers may be astounding. It is obvious that the energy required to power biological systems comes from food and air. But how do they use them to do everything? How does it all get coordinated?
These are the fundamental questions that have been asked for millennia, by ancient shamans and modern pharmaceutical companies alike. It turns out that the answers are different depending on what sort of perspective and tools we begin with. In the West, our predecessors in medicine were anatomists. Armed with scalpels, the human form was first subdivided into organ systems. Our knives and eyes improved with the development of microtomes and microscopes giving rise to the field of Histology (the study of tissue). Our path of relentless deconstruction eventually gave rise to Molecular Biology and Biochemistry. This is where Western medicine stands today. We define "understanding" as a complete description of how the very molecules that comprise our bodies interact with one another. This method and model has served us well. We have designed powerful antibiotics, identified neurotransmitters, and mapped our own genome. Why then have we not been able to figure out how a gas like ether works? The answer is two-fold.
First, although we have been able to demonstrate some of the biological processes and structures that are altered by an inhaled anesthetic gas, we cannot pinpoint which ones are responsible for altering levels of awareness because inhaled anesthetic agents affect so many seemingly unrelated things at the same time. It is impossible to identify which are directly related to the "awake" state. It is also entirely possible that all of them are, and if that were the case consciousness would be the single most complex function attributed to a living organism by a very large margin.
The second difficulty we have is even more unwieldy and requires some contemplation. As explained above, western medicine has not been able to isolate which molecular interaction is responsible for anesthetics' effect on our awareness. It is therefore reasonable to approach the puzzle from the opposite side and ask instead, "Where is the source of our awareness in our bodies?" and go from there.
We do know that certain neurological pathways in the brain are active in awake patients, but if we attribute consciousness to those pathways then we are necessarily identifying them as the "things" that are awake. To find the source of their "awakeness" we must then examine them more closely. With the tools we have and the paradigm we have chosen we will inevitably find more molecules interacting with other molecules. When you go looking for molecules that is all you will find. Our paradigm has dictated what the answer would be like if we ever found one. Does it seem plausible to think we will find an "awareness molecule" and attribute our vivid, multisensorial experience to the presence of it? If such a molecule existed, how would our deconstructive approach ever explain why that molecule was the source of our awareness? Can consciousness ever be represented materially?
A more sensible model would be to consider the activity of these structures in the brains of conscious individuals as evidence of consciousness, not the cause of it. To me it is apparent that, unless we expand our search beyond the material plane, we are not going to find consciousness or be able to understand how anesthetic gases work. Until then I know I am nothing more than a wand-waver in the operating room. And that is being generous. The magician is the anesthetic gas itself, which has, up to this point, never let us in on the secret.
What happens when someone goes "under"?
The mechanistic nature of our model is well suited to most biological processes. However, with regard to consciousness, the model not only lends little understanding of what is happening, it also gives rise to a paradigm that is widely and tightly held, but in actuality cannot be applied to the full breadth of human experience. We commonly believe that a properly functioning physical body is required for us to be aware. Although this may seem initially incontrovertible, upon closer examination it becomes quite clear that this belief is actually an assumption that has massive implications. To be more precise, how do we know that consciousness does not continue uninterrupted and only animate our physical bodies intermittently rather than the other way around, where the body intermittently gives rise to the awake state? At first, this hypothesis may seem absurd, irrelevant and unprovable. I assure you that if you spent a day in an operating room, this idea is not only possible, it is far more likely to be true than the converse.
Let us first consider how we measure anesthetic depth in the operating room. We continually measure the amount of agent that is circulating in a patient's system, but as described earlier, there is no measurable "conscious" molecule that can be found. We must assess the behavior of our patients to make that determination. Do they reply to verbal commands? Do they require a tap on the shoulder or a painful stimulus to respond? Do they respond verbally or do they merely shudder or fling an arm into the air? Perhaps they do not even move when the very fibers of their body are literally being dissected.
There are many situations when a person will interact normally for a period of time while under the influence of a sedative with amnestic properties, and then have absolutely no recollection of that period of time. As far as they know, that period of time never existed. They had no idea that they were lying on an operating room table for 45 minutes talking about their recent vacation while their surgeon performed a minor procedure on their wrist, for example. Sometime later, they found themselves in the recovery room when, to their profound disbelief, they noticed a neatly placed surgical dressing on their hand. More than once I have been told that a patient had asked that the dressing be removed so that they could see the stitches with their own eyes.
How should we characterize their level of consciousness during the operation? By our own standards they were completely awake. However, because they have no memory of being awake during the experience, they would recount it more or less the same way a patient who was rendered completely unresponsive would. This phenomenon is common and easily reproducible. Moreover, it invites us to consider the possibility that awareness continually exists without interruption, but we are not always able to access our experiences retrospectively.
During some procedures where a surgeon is operating very close to the spinal cord, we often infuse a combination of anesthetic drugs that render the patient unconscious but allow all of the neural pathways between the brain and the body to continue to function normally so that they can be monitored for their integrity. In other words, the physiology required to feel or move remains intact, yet the patient apparently has no experience of any stimuli, surgical or otherwise during the operation. How are we to reconcile the fact that we have a patient with a functioning body and no ability to experience it? Who exactly is the patient in this situation?
What can Near Death Experiences (NDEs) tell us?
If we broadened our examination of the human experience to consider more extreme situations, another wrinkle appears in the paradigm. There are numerous accounts of people who have experienced periods of awareness whilst their bodies have been rendered insentient by anesthetics and/or severe trauma. Near Death Experiences (NDEs) are all characterized by lucid awareness that remains continuous during a period of time while outside observers assume the person is unconscious or dead. Very often patients who have experienced an NDE in the operating room can accurately recount what was said and done by people attending to them during their period of lifelessness. They are also able to describe the event from the perspective as an observer to their own body, often viewing it from above.
Interestingly, people describe their NDEs in a universally positive way. "Survival" was an option that they were free to choose. Death of their body could be clearly seen as a transcending event in their continuing awareness and not as the termination of their existence. Very often the rest of their lives are profoundly transformed by the experience. No longer living with the fear of mortality, life subsequently opens up into a more vibrant and meaningful experience that can be cherished far more deeply than was possible prior to their brush with death. Those who have had an NDE would have no problem adopting the idea that their awareness exists independently of their body, functioning or not. Fear and anxiety would still probably arise in their life from time to time, but it is the rest of us who carry the seemingly inescapable load of a belief system that ties our existence to a body that will perish.
What happens when we wake up from Anesthesia?
The waking up part is no less magical. When the anesthetic gas is eliminated from the body, consciousness returns on its own. Waking someone up simply requires enough space and time for it to occur spontaneously. There is no reversal agent available to speed the return of consciousness. I can only wait. In fact, the waiting period is directly related to the amount of time the patient has been exposed to the anesthetic. At some point the patient will open their eyes when a threshold has been crossed. Depending on how long the patient has been "asleep," complete elimination of the agent from the body may not happen until a long while after the patient has "woke."
By the time I leave a patient in the care of our recovery room nurses, I am confident that they are safely on a path to their baseline state of awareness. Getting back to a normal state of awareness may take hours or even days. In some cases, patients may never get their wits back completely. Neurocognitive testing has demonstrated that repeated exposure to general anesthesia can sometimes have long-lasting or even irreversible effects on the awake state. It may occur for everyone. Perhaps it is a matter of how closely we look.
Interestingly, it is well known that the longterm effects of anesthetic exposure are more profound in individuals who have already demonstrated elements of cognitive decline in their daily life. Indeed, this population of patients requires significantly less anesthetic to reach the same depth of unconsciousness during an operation. This poses an intriguing question: Is our understanding of being awake also too simplistic? Is there a continuum of "awakeness" in everyday life just as there is one of unconsciousness when anesthetized? If so, how would we measure it?
Does our limited understanding of awareness keep us "asleep"?
Modern psychiatry has been rigorous in defining and categorizing dysfunction. Although there has been recent interest in pushing our understanding of what may be interpreted as a "super-functioning" psyche, western systems are still in their infancy with regard to this idea. In eastern schools of thought, however, this concept has been central for centuries.
In some schools of Eastern philosophy, the idea of attaining a super-functioning awake state is seen as something that also occurs spontaneously when intention and practice are oriented correctly. Ancient yogic teachings specifically describe super abilities, or Siddhis, that are attained through dedicated practice. These Siddhis include fantastical abilities like levitation, telekinesis, dematerialization, remote-viewing and others. The most advanced abilities, interestingly, are those that allow an individual to remain continuously in a state of joy and fearlessness. If such a state were attainable it would clearly be incompatible with the kind of absolute psychological identification most of us have with our mortal bodies. It may be of no surprise that Eastern medicine also subscribes to an entirely different perspective of the body and uses different tools to examine it.
Certainly fear has served our ancestors well, helping us to avoid snakes and lions, but how much fear is necessary these days? Could fear be the barrier that separates us from our highest potential in the awake state just as an anesthetic gas prevents us from waking in the operating room? It is not possible to remain fearless while continuing to identify with a body that is prone to disease and death. Even if one were to drop the assumption that the source of our existence is a finite body, how long would it take to be free from the effects of a lifetime of fearful thinking before any changes that reflect a shift in this paradigm manifest? As long as we leave this model unchallenged we may be missing what it means to be truly awake.