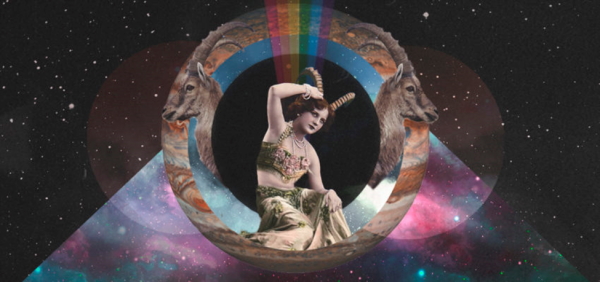 Weekly Astrology Forecast For All Signs January 10th 2022
Aries
Ready for some intoxicating stuff?
You have the power
Get smart and get serious!
Power. Sex. Transformation. Status. Recognition and renown. From the penthouse to the bedroom, the boardroom to the basement, who has the power in all your relationships and shifts within these, are on the agenda for this week. Venus remains retrograde in your 10th while the Sun meets Pluto in here. It's about boss moves, power moves, sexy moves. And ensuring you are treated with equality, fairness and without bias now Vesta moves into your 10th. And whether or not those long term efforts pay off. Get smart and get serious, Arues.
Mercury retros this week in your 11th. How you are seen and perceived matters. Those you associate with – whether these connections are on a personal or a professional level, have the ability to impact on your path. Ceres direct once more in your 2nd says you need to stay connected to those values too. This week will show you one way or another that we can be judged by the company we keep – or the company we work for. Mercury will back into your 10th before heading direct again. Want to create a new, different image? Along with Venus retro you do get a second chance to make that impression.
Status Symbols
This is a week to take yourself seriously and to set major changes in motion. You could be encountering people in positions of power and authority and it will be essential that you come across as someone who knows what they are talking about. A radical shift in your career path or even your personal life could follow. On an inner level, this could be directly linked to how you see your sexual partner or your career/position in life as reflecting on your status. It's still not the right time for new love. What it is however is your time to work your power.
In a nutshell: Your professional or career status is subject to change. Even how people perceive you could transform. Take yourself seriously this week, Aries. Time for some power moves.
Jan 12 2022 Vesta enters Capricorn (10th)
Jan 14 2022 Mercury stationary retrograde in Aquarius (11th)
Jan 14 2022 Ceres stationary direct in Taurus (2nd)
Jan 16 2022 Sun conjunct Pluto in Capricorn (10th)
Taurus
No more being taken for granted
Make that move
Don't hesitate!
The time is now. The choice is yours however, Taurus. If you are tired of being the one everybody else assumes will simply continue on a given path without complaint, this is the week where you may overturn those perceptions. You take responsibilities seriously. You are 100% reliable. But are you being taken for granted because of that?
If ever there was an opportunity to break free of restrictions or explore a new direction loaded with possibilities, this is your week, Taurus. Chances are your soul has been crying out for change for some time. Even if your mind has been resisting it. If you've been following your forecasts on a regular basis then you know that change has been a theme for you recently. This week could see you unable to put it off any longer.
Ride The Rogue Wave
Change is like a rogue wave sweeping you up and away whether you are willing to initiate it or not. I really would recommend you do as the problem with rogue waves is that we don't know where they will wash us up. When we instigate change ourselves we at least have the advantage of steering towards a specific destination. Take that now as Vesta arrives in your 9th and Pluto and the Sun meet in here on the 16th.
Ceres moves forward in your 1st indicating you are open to compromise but something personal needs to change. Especially if circumstances or the role you are expected to assume is now limiting your growth. Mercury is retrograde this week in your 10th of career and will back into your 9th where your ruler remains backwards for now.
You're now days away from one major cycle closing and a new one beginning. A new life journey is at hand. Get a head start on travel arrangements now and begin the journey yourself. Don't wait for that cosmic travel agent (Jupiter in your 11th) to do it for you. Or for that matter unpredicatble Uranus in your 1st to take over. Kick start the process yourself and don't be confined any longer.
In a nutshell: Escape the pigeonhole and turn other people's expectations on their head! The call to change may now be irresistible, Taurus. Time to initiate those plans. Especially if they involve freedom and leaving limitations behind you.
Jan 12 2022 Vesta enters Capricorn (9th)
Jan 14 2022 Mercury stationary retrograde in Aquarius (10th)
Jan 14 2022 Ceres stationary direct in Taurus (1st)
Jan 16 2022 Sun conjunct Pluto in Capricorn (9th)
Gemini
Plug into self-empowerment
Transform mountains into molehills
Can you resist anything except temptation?!
Ruler Mercury turns retro-active this week in your 9th and you know what that means, Gemini. And the rules too. In your 9th Mercury's capacity for mayhem can be increased. Treat the retro commandments as just that – written on stone tablets and not to be messed with!
Unlike next door sign of Taurus, you cope with change better than most, Gemini. Good thing too as this week brings a slew of planets in your house of transformation, endings and personal power. Oh and sex. This is the house of sex and creation as well as death and rebirth. This week could involve a bit of both.
Being the sign of duality, perhaps this is a good time to talk about Double Jeopardy. Your 8th contains temptation, obsession and forbidden fruit. As Pluto rules this house and is in here and is caught up in the majority of this week's aspects, resisting temptation if it crosses your path, may be hard to do. Just be aware that you may be found out if you do so ensure the risks are worth it. Especially as Venus remains retrograde in here and Mercury will back up into it. Hence, you could end up exposed or with a lot of explaining to do.
Crossing Lines
Changes around work, your salary, something you share with another or just you letting someone know where the boundaries lie are also possible this week. If it is a question of someone crossing the line, you may have to own the fact you should have enforced this a long time ago. This week can see personal power dynamics shift in all kinds of relationships.
In a nutshell: Temptation? Can you resist it this week, Gemini? Or are you yourself the temptation someone else finds impossible to resist? Moves you have delayed making can now be initiated. Just ensure they are all the right ones.
Jan 12 2022 Vesta enters Capricorn (8th)
Jan 14 2022 Mercury stationary retrograde in Aquarius (9th)
Jan 14 2022 Ceres stationary direct in Taurus (12th)
Jan 16 2022 Sun conjunct Pluto in Capricorn (8th)
Cancer
Hold on for one more retrograde!
Shifts around partnerships can occur
Love ever after or after love?
Hold on like Wilson Phillips, Cancer. It won't be long now until Venus heads direct again in its ruling 7th. Vesta in your 7th this week is about what you can sustain and what now has to change when combined with Mercury retrograde in your 8th.
What you have been waiting for may not have put in an appearance just yet. But that doesn't mean it's not on its way. When it comes to existing partnerships, relationships could undergo a big shift as the Sun and Pluto meet on the 16th. Although the final chapter may not be played out until later in the month.
Jupiter and Neptune are in their joint ruling sign and Jupiter's ruling house. You need something freer, more astounding and utterly breathtaking. No more restrictions whether they are imposed by you unwittingly or on your by others or outer circumstances. Expect these to be removed or vanish like mist during '22. Just be aware that Vesta is about gender issues and inequalities and is now in the sign of Capricorn – karma and time and Pluto rules endings. If something no longer has a future, then your time may be up now with this confronting retrograde activity. It can't be denied and must be dealt with.
The Future Is Yours To Design
New beginnings will appear next month when Venus is direct and issues a Long Live Love rallying cry. This week also sees Ceres direct in your 11th opening new pathways to friendships and goals. Look to serious conversations about the future involving you and at least one other person as Vesta moves through your 7th and Mercury re-enters it. You've got time on your side to work all this out, Cancer.
In a nutshell: Retrogrades aren't designed to rain on our parade but they can slow things down, Cancer. An existing union demands your full attention. You need to attend to it before you can move forward. But time is on your side to work this out.
Jan 12 2022 Vesta enters Capricorn (7th)
Jan 14 2022 Mercury stationary retrograde in Aquarius (8th)
Jan 14 2022 Ceres stationary direct in Taurus (11th)
Jan 16 2022 Sun conjunct Pluto in Capricorn (7th)
Leo
Keep the home or work fires burning
Focus on the small stuff (it's all small stuff)
Plan for the long term
Venus retrograde in your 6th can have you looking for distraction and a means to escape the mundane. Meanwhile, Mercury retrogrades in Venus's ruling 7th which puts both planets backwards in each other's ruling sectors in your chart. I'd love to be able to say they cancel one another out but that's simply not the case, Leo. New love just happens to be a no entry zone. The border is well and truly locked down and closed.
However, Vesta's arrival in your 6th on the 12th hones your focus on the here and now. And on the details. Keep it there with the ruler of his house now backwards to avoid the usual Mercury mayhem. Really it will pay off if you do thanks to Jupiter now in your 8th intent on opening the door to the goody room of rewards and empowerment.
Your ruler the Sun is also in your 6th and this week meets Pluto. The result could be a transformation for the better when it comes to your job. As Venus rules your bank account as well as your love life, more money could sweeten the deal. If you're waiting to hear news on an interview, a promotion or a contract of any kind, it may end up delayed or simply go back and forth for a bit. If so, just focus on working with what you have right now or take a 'first things first' approach. You have the power to get it done this week, Gemini. Especially when it comes to changing that day for more fun and less grind.
In a nutshell: Long awaited job changes and rewards could appear now, Leo. It's all about laying the foundations for your future. You've all the building blocks this week. And the focus you need too.
Jan 12 2022 Vesta enters Capricorn (6th)
Jan 14 2022 Mercury stationary retrograde in Aquarius (7th)
Jan 14 2022 Ceres stationary direct in Taurus (10th)
Jan 16 2022 Sun conjunct Pluto in Capricorn (6th)
Virgo
Be 100% present
Work with what you have
What you focus on expands
Ruler Mercury retrograde on the 14th and in its ruling house (6th) in your chart. I don't need to tell you what this means. Nor how important sticking to those retro rules to the letter is either, Virgo. Especially when this is combined with Venus still retrograde in your 5th.
Act with presence and passion but don't look for the new. It's about what you have right now rather than what (or who) has yet to appear. Yes, this even applies when you have Jupiter in your 7th. That doesn't mean you still can't shine, stand out or attract in other ways.
To really take advantage of this week you have to follow one very simple rule: be present. What is 'star quality'? We associate this with celebrities and actors. But when you stop to think about it, chances are you have met people from all walks of life who have it. Yes, it's a mixture of many things but with all these planets in your shining 5th you can channel it too. By being in the moment. By enjoying everything that moment offers and being totally focussed on the fun and the people there with you. That's star quality. If you can remember these rules you will send your ability to attract skyrocketing. Just like a superstar, Virgo.
In a nutshell: You've more than a touch of star quality this week, Virgo. Be present in the moment and play to the crowd. You're set to blaze a trail to win hearts and minds now.
Jan 12 2022 Vesta enters Capricorn (5th)
Jan 14 2022 Mercury stationary retrograde in Aquarius (6th)
Jan 14 2022 Ceres stationary direct in Taurus (9th)
Jan 16 2022 Sun conjunct Pluto in Capricorn (5th)
Libra
Map out your money path
Invest in your living space or lifestyle
Work it like a boss, Libra
Ruler Venus remains retrograde in your 4th while Mercury heads backwards in your 5th on the 14th. There's a shift occurring now despite the usual retro holds. Big decisions around your living space, your home, apartment, people you love with or your lifestyle can be made this week. It's all about long term planning and a future foundation that may have eluded you until now. Maybe because you just did not have the resources to create this. Until now. Have a plan for when they arrive.
No New Moves, Just All The Right Ones
Boss Jupiter in your 6th which is Mercury's ruling house, prompts you to take action on your own behalf when it comes to following up with that outstanding business, job application or move. The Sun and Pluto meet this week. Remember in mythology, Pluto guarded the Riches of the Underworld. This could mark some of them being released and sent your way. Remember, as your 4th is in focus this is all about the long term and your security. So, any extra money is to be invested in some way for your future rather than frittered away.
Yes, you may feel at times you are going against what is or has been expected of you in the past with Vesta now in your 4th. The role you have been assigned by family members for instance. But this is about you knowing this is your life to live your way and to stop playing by other people's rules. Especially when they no longer make sense for you. Don't lose heart, Libra. Ceres direct in your 8th puts a new and possibly better deal on the table. By next month – everything looks different.
In a nutshell: Changes to your home or living arrangements loom early in '22. This week could see the first stage of your Changing Rooms scenario. You've the key to this now, Libra. Just keep seeking that new love on hold for now.
Jan 12 2022 Vesta enters Capricorn (4th)
Jan 14 2022 Mercury stationary retrograde in Aquarius (5th)
Jan 14 2022 Ceres stationary direct in Taurus (8th)
Jan 16 2022 Sun conjunct Pluto in Capricorn (4th)
Scorpio
The talk hots up
No more putting off that conversation
Say what you mean to say
Press pause on property dealings as well as launching anything like a business, a pitch, a blog, a website, a product or applying for that new position, Scorpio. Not only do you still have Venus retrograde in your 3rd but this week, the ruler of your 3rd Mercury turns retrograde in your 4th of home, living arrangements and family.
If things are already in motion – they may stall or change direction entirely. And despite the Sun and your ruler Pluto meeting in your 3rd this week – handing you the ability to influence and mesmerize, using that superpower to flirt or attract that new lover probably won't work either. At least not permanently while Venus remains backwards. Oh yes, you own that sexy banter and come-hither vibe. And sure, it can spice up an existing relationship or even close escrow on a deal that's been hanging around for a while. But be prepared for the fact some things may just have a direction all their own which is entirely different to the one you thought they would take.
Say It Anyway
You will mean what you say but whether others keep their word is something else entirely now. It may be time to retreat to the backroom when it comes to your ideas too. However, one conversation you have could just be profound, deep, sexy and game-changing for you. This week you could experience for yourself the power of words. And understand why the pen can be mightier than the sword. It's all about communicating to get what you want or news that changes everything. What needs to be said and the way it is said plays a role. What's more – with ruler Pluto in the mix there's no such thing as a taboo subject. If you've been putting off having a conversation with someone you're now going there. And getting straight to the point about it.
In a nutshell: Talk gets deep but not cheap this week. Plus there's no subject you're not prepared to tackle. Including that conversation you've put off having. Yes, you can also flirt up a storm too. But leave it at that this week, Scorpio.
Jan 12 2022 Vesta enters Capricorn (3rd)
Jan 14 2022 Mercury stationary retrograde in Aquarius (4th)
Jan 14 2022 Ceres stationary direct in Taurus (7th)
Jan 16 2022 Sun conjunct Pluto in Capricorn (3rd)
Sagittarius
Remove blocks to abundance
Play by the (money) rules
Yes you are – worth it!
Mercury retrogrades in its ruling 3rd on the 14th plus you still have Venus retrograde in its ruling 2nd. If the phrase 'Going nowhere fast' just popped up, sorry, but that is what is may feel like for now. Instead, time to play catch-up in order to cash in on enhanced self-worth which will pay dividends for you later this year when ruler Jupiter lands in your 5th.
What stands between you and true abundance? You need to look closely at where you may be blocked when it comes to receiving prosperity and then take steps to remove this. Vesta's arrival in your 2nd on the 12th could see you examining those deeply held thoughts and beliefs around you and your cash. Have trouble holding on to it? Feelings of unworthiness? Mike Todd the Hollywood producer who was married to Elizabeth Taylor once said 'I've been broke but I've never been poor. Being broke is temporary. Being poor is a state of mind.' How's that state of mind, Sag?
Time For A Soul Worth Audit
Shore up that value system as Ceres moves ahead in your 6th this week. Your cash and your attitude to it could be in for a profound transformation this week as the Sun and Pluto meet in your 2nd. As Mercury moves back in here you have time for a life audit and to decide what needs your priority. Time to take control of your financial destiny but above all, play by a set of rules of checks and balances. These can be rules you set yourself provided they work and you stick to them. This could see you heading into the black for some time to come once this retro financial weather ends. Time to be more money-minded and this begins with knowing your own worth.
In a nutshell: Back in black? When it comes to your money it's never out of style. You could just be dressed for financial success for 2022, Sag. It all begins with removing what stands between you and abundance. And knowing your true worth.
Jan 12 2022 Vesta enters Capricorn (2nd)
Jan 14 2022 Mercury stationary retrograde in Aquarius (3rd)
Jan 14 2022 Ceres stationary direct in Taurus (6th)
Jan 16 2022 Sun conjunct Pluto in Capricorn (2nd)
Capricorn
Just whose rule book are you using?
Love is the deal to be done
Change your self-image – change your relationships
Vesta lands in your 1st this week. Vesta is all about playing by someone else's rules and conforming. Now, sometimes this works and other times, it doesn't. Ceres direct this week in your 5th is asking if there needs to be a compromise now and other planets open the way for renegotiation's if they are necessary or needed.
Venus remains retrograde in your 1st and the 14th sees Mercury heads backwards in Venus's ruling 2nd. So what it is you want, Capricorn? Chances are that has undergone a shift of late. It's time to acknowledge those deeply personal desires around your tribe, what you have to contribute to the collective and on an even deeper level around love, sex and your most intimate connections.
Change Your Perspective With Self-Love
Partnerships – past, present and the love that is still unformed but exists in the dark matter of your future, feature as the Sun meets Pluto in your 1st on the 16th. Chances are you know what you need (or who) or what you need to change in order to bring this about. If you are being treated as a lightweight at work, you'll look at what needs to be done to get yourself taken seriously. This may mean planning a job change when Mercury is direct once again. Same with how you are seen in your closest connections. Change how you see yourself – and others follow, Cappy.
In a nutshell: How do you see yourself? New year – new you. At least, that is how it should work Capricorn. If you want to change how the world sees you, it begins with changing how you see yourself.
Jan 12 2022 Vesta enters Capricorn (1st)
Jan 14 2022 Mercury stationary retrograde in Aquarius (2nd)
Jan 14 2022 Ceres stationary direct in Taurus (5th)
Jan 16 2022 Sun conjunct Pluto in Capricorn (1st)
Aquarius
Back to the future for '22!
Find your niche
Is something worth a re-boot?
What's your true purpose, Aquarius? Ready to discover it? Your loaded 12th this week offers more than just a clue but a link to higher inspiration and spiritual truth. It may mean delving deep into the heart of your psyche to unearth this. Or even what it is that may be preventing you for living this out. Revelations are in order so stand by. While some may come as no surprise as you realise you have always known it on a gut level, others may come as a complete shock.
A word of warning. If someone from your past re-appears now claiming they have changed, you are advised to adopt a 'wait and see' approach as chances are – they haven't. In fact, if someone such as an old lover does turn up, it may be for just one quick go-around to then disappear from your life for good. You just might want to spare yourself this.
Pay It Forward
However, links to your past or even past lives thanks to Venus retro in here and now the entrance of Vesta on the 12th. Your 12th is concerned with matters of the soul and spirit rather than material concerns. However, this week we have the Sun, and Pluto meeting in here. You may suddenly veer from matters of the spirit to being a supercharged dynamo of success. Again, look to who may be helping you. Rewards come from past efforts as Mercury turns retrograde in your sign and Ceres heads forward in your security sector. What comes to you is owed you in some way. And that's the spiritual truth. So look to the past for clues. But remember – you are no longer the person you were then. And no longer live there.
In a nutshell: Time for a soul purpose journey, Aquarius. You're heading back to the past to discover your future. Just remember – this is a return journey, not a one way trip. You're there to learn, not to repeat.
Jan 12 2022 Vesta enters Capricorn (12th)
Jan 14 2022 Mercury stationary retrograde in Aquarius (1st)
Jan 14 2022 Ceres stationary direct in Taurus (4th)
Jan 16 2022 Sun conjunct Pluto in Capricorn (12th)
Pisces
Get connected
Friendships get locked in for the long term
Ready for a little exploration, Pisces? You have Jupiter planet of adventure and expansion in your sign now. Tipping you out of your comfort zone and out the door. Your goals, wishes and dreams are in focus this week as well as friends, groups (and this could be literal as in a band), your tribe, contacts and networks. Who is with you on your road trip and also who could help you get there?
Friends With Benefits Of A Different Kind
Your friendships and even professional contacts are being locked in for the long term this week with one emerging of special significance for you. Look to who is around you, who you hear from now or who you meet. But also look to the power dynamic which underpins this due to Vesta's arrival on the 12th.
The Sun's meeting with Pluto in here on the 16th lays bare any themes around manipulation or control. On the one hand this can deliver powerful and influential friendships. On the other it can show you that things are not equal and never have been. Venus remains retrograde in here and now Mercury turns backwards in your 12th of hidden truths and agendas.
Are you an introverted extrovert? That Sun/Pluto alignment may embolden you along with Ceres now direct in your 3rd. Make an effort to start conversations. It may surprise you to know that many of the world's top actors confess to being introverts in their private lives – despite their performances and greeting fans. So, even if you are shy, embrace your audience this week. The transformation that one particular connection could bring you may be nothing less than astounding. One way or another, Pisces.
In a nutshell: Push through shyness and step out with confidence this week. Even if you're shaking in your shoes. You'll fake it till you make it – and win hearts and friends doing so.